Residents have been told to stay inside and secure all doors and windows after an out of control fire continues to tear through a power plant in Wollongong.
At 3pm today, emergency services were called to reports of a fire at the Transgrid Substation at Yallah on the Princess Highway, approximately 5km south of Dapto.
It is believed more than 100,000 litres of oil has caught alight, which could see the blaze burn for three to four days.
Shellharbour Airport has been forced to close as more than a dozen firetrucks work to contain the
blaze
, which police say poses a risk to nearby residents.
A total of 16 trucks are battling the flames, but no injuries have been reported at this stage.
"Due to the smoke being considered toxic affected residents are urged to stay indoors and secure all doors and windows," a spokesperson for NSW Police said.
"It is anticipated that it maybe sometime before the fire is under control."
Fire and Rescue
NSW
Superintendent Adam Dewberry said Shellharbour Airport has been closed.
"We have shut down Albion Park Airport as the smoke plume is impacting the approaching aircraft," he said.
He said the situation is evolving but so far, emergency services are unable to extinguish the blaze.
"At this stage firefighters are unable to fight the fire until the confirmation power has been shut off by the electrical authority."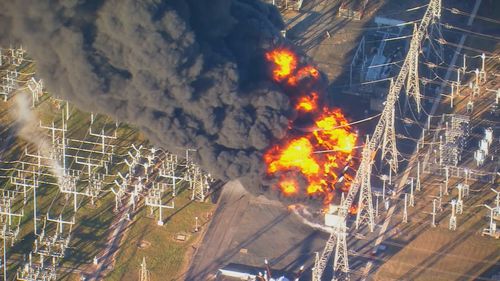 Tallawarra is a 435-megawatt combined cycle natural gas power station in the city of Wollongong.
Transgrid, RFS as well as Fire and Rescue NSW are trying to establish the best way to extinguish the blaze.
This is original news content created by 9News on www.9news.com.au, Newslogic.in or any author at newslogic.in has no rights over this content. This content is auto fetched from the original post, the link to the original post is given below.

Reference link